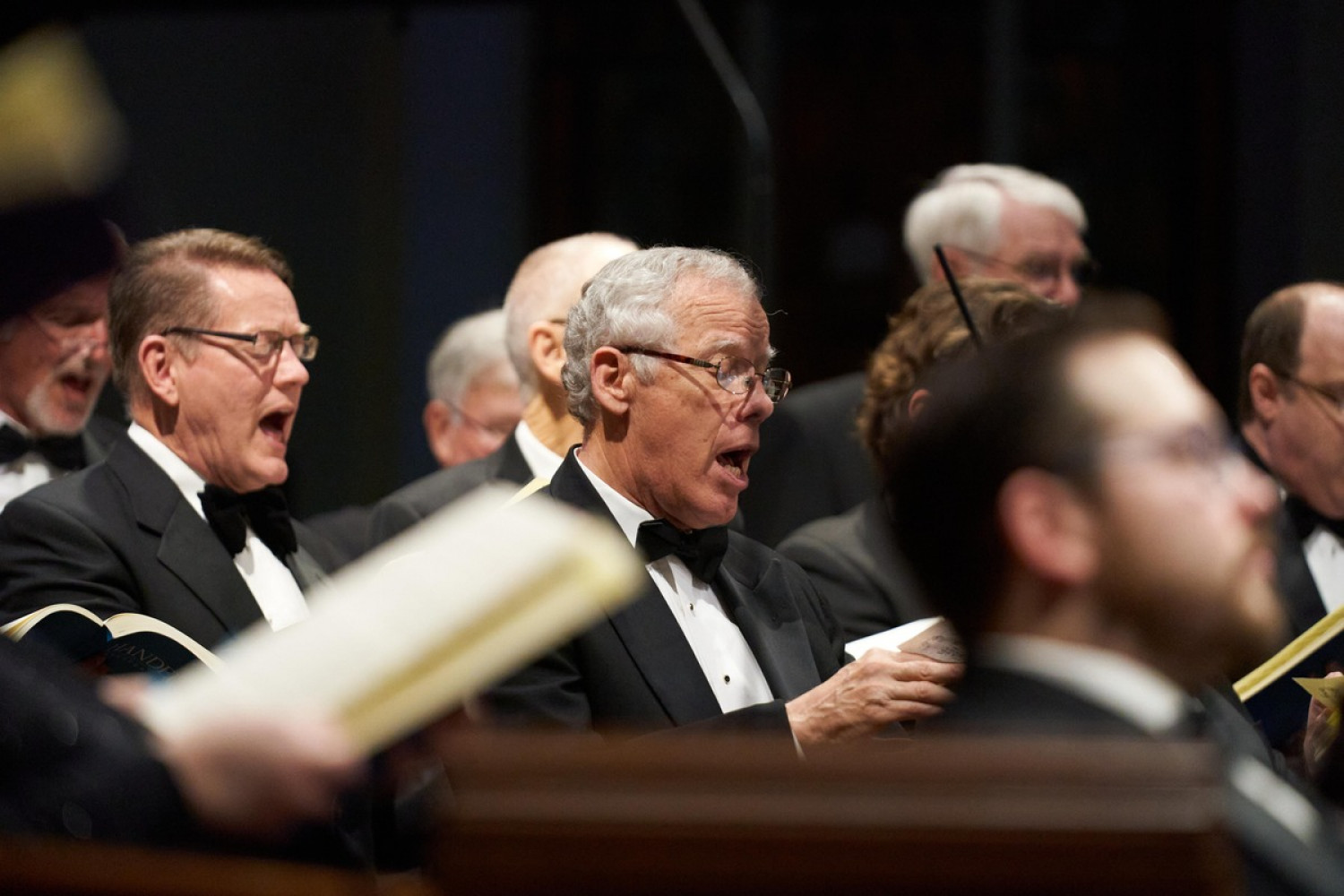 Evansville Philharmonic Chorus
The Evansville Philharmonic Chorus performs under the direction of Andrea Drury.
The Evansville Philharmonic Chorus (EPC) performs major choral repertoire with the Evansville Philharmonic Orchestra on its subscription series in addition to special appearances throughout the year such as caroling during the Holidays, runout performances, and its Annual Choral concert.
Rehearsals are held on Monday evenings from August 23 through May 14; additional rehearsals are required with orchestra on the week of performances. For more information, call Danniece Henderson, Director of Operations and Chorus Manager, 812-425-5050, Ext 310 or email dhenderson@evansvillephilharmonic.org.
President: Donna Jeffers
President-Elect: Patricia Colbert
Secretary: Michele Wagner
Kim Moors (S)
Jennifer Rivera (A)
Andy Seibert (T)
Scott Kempin (B)
Assistant Section Leaders
Libby Marshall (S)
Mary Forbes (A)
Stephen Best (T)
Andrew Meyer (B)
Heather Marin
Diana Kulenkamp
Paula Key
Margaret Scherzinger
Andrea Drury
Chorus Master
Andrea Drury is beginning her 9th year as Conductor of the Philharmonic Chorus and is happy to end it with in-person singing! She is currently the Fine Arts Specialist for Choral and General Music and Theatre for the Evansville Vanderburgh School Corporation. Prior to this, she taught applied voice at the University of Evansville and the University of Southern Indiana for two years.

Mrs. Drury was the conductor of the North High School Choral Department from 2005-2015 where her choirs placed in the top ten at the state competition for nine of her ten years.
In 2014, Mrs. Drury and her husband were awarded the Artist Award presented by the Arts Council of Southwest Indiana. Mrs. Drury has been nominated for the Evansville Courier and Press Teacher of the Year award two times. She serves on the ISSMA Organizational Committee for the state of Indiana as the Administrative Representative for Zone. She currently is the Area 7 Representative for the Indiana Music Education Association and is the President-Elect for the Indiana Choral Directors Association. Before diving into the choral world, Mrs. Drury sang with opera companies and symphonies around the country. She still occasionally joins local groups as a soprano soloist.

Hailing from the state of Texas, Mrs. Drury received her Bachelor of Music Education from Baylor University in 1996 and her Master of Music in Vocal Performance from The Ohio State University in 2000. Mrs. Drury is blessed with a wonderful and supporting husband and two amazing sons.
Stacia Ahlfeld
Tobi Backer
Victoria Backer
Mary Birkhead
Kerri Blanford
Angelika Clark
Annie Cloud
Amelia Cottrell
Gabby Emberton
Janice Evans
Geneva Halter
Jill Hemminger
Danniece Henderson
Meghann Herrenbruck
Anna Hoffmann
Libby Marshall
Lana Mays
Wendy Menke
Joan Mentzel
Ellen Merrick
Celine Mestel
Erika Miller
Kim Moors
Angela Mullis
Alison Oldham
Abby Roach
Jillian Shade
Vicky Shelby
Karen Weck
Ellen Welcher
Melissa Bethel
Patty Beagle
Erica Birkner
Shelly Bitner
Ann Boyd
Patricia Bunner Colbert
Pam Doerter
Mary Forbes
Jaclyn Grogan
Anna Hevron
Debbie Howell
Jane Shafer Jackson
Paula Key
Diana Kulenkamp
Sally Lager
Marilyn Lankford
Katie Lee
Peggy Liberti
Heather Marin
Ruth Metzger
Linda Palmer
Samantha Prindle
Shuna Purdy
Christie Reagan
JoAnne S. Reinhardt
Jennifer Rivera
Lydia Roden
Margaret Scherzinger
Brittany Skinner
Sally Vogl-Bauer
Michele Wagner
Lisa Walters
Paul Becker
Stephen Best
Cletus Davis
Phil Fassett
Chad Hayden
Dennis R. Holycross
Al Jacobs
Donna Jeffers
Patrick Litteken
Christopher N. Price
David Pugh
Nicholas Rhoades
Andy Seibert
Joe Wells
Dan Wheelock
Daniel Besing
Brad Betsworth
Joseph Birkhead
Charles Blesch
Phil Boyd
Donald Condon
David Coker
Scott Kempin
Frank Liberti
Max Loehr
Ben Luttrull
Joshua D. Mason
Andrew Meyer
Will Miller
Robert C. Reinhardt
Richard Sprinkle
Donald Summers